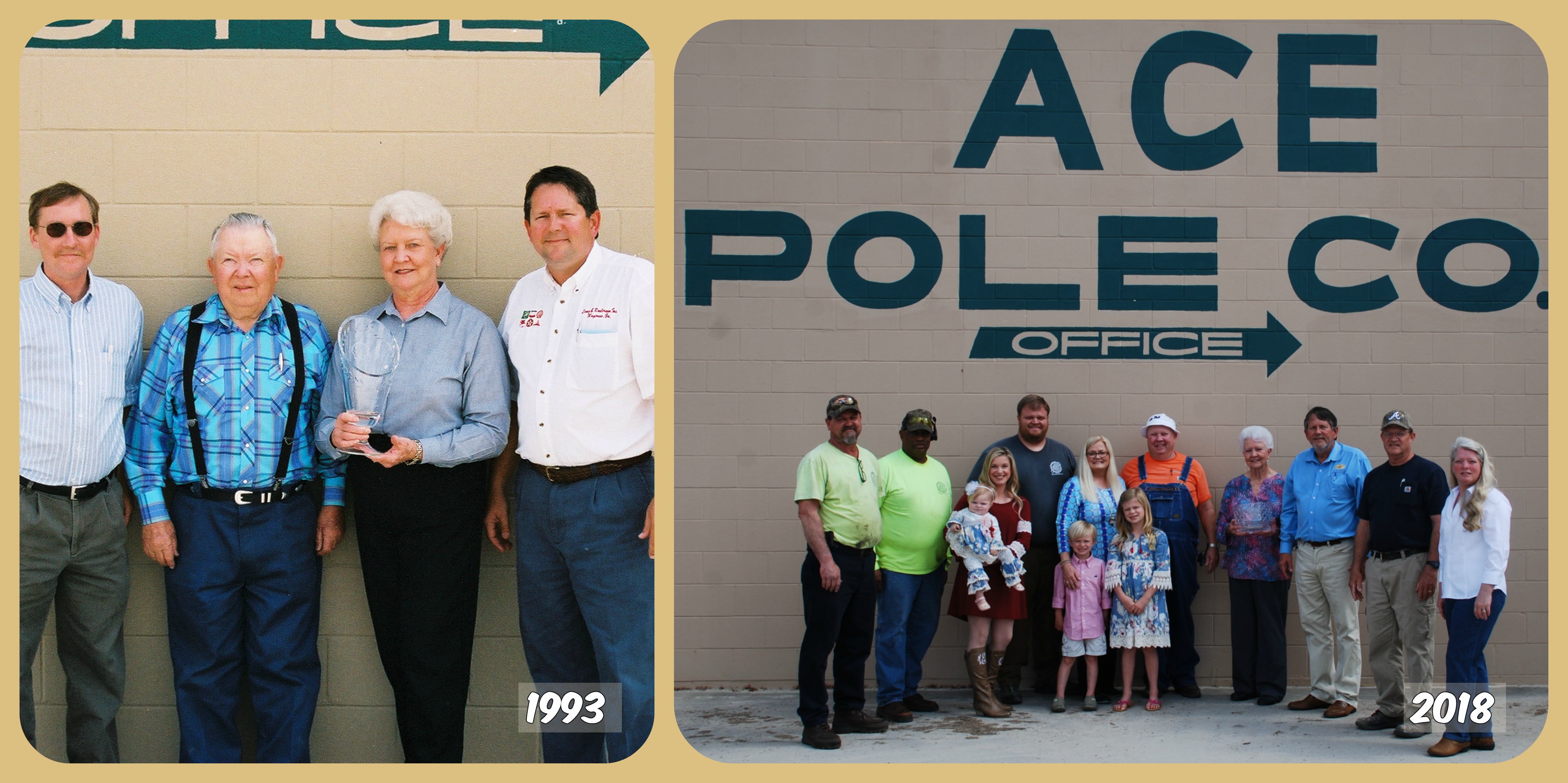 posted by Casey Hall
categories
Ace Pole Company and Lewis & Raulerson, Inc. celebrate 55 years! Mr. Steve Eunice, Ace Pole's founder, had many talents that most people may not be aware of. He was a master carpenter working for both Ernest and Carl Lewis. He was also a woods producer cutting timber for many including Ernest Lewis, Lewis Oil's founder. He also planted trees for many in SE GA. Although he earned no formal education, Mr. B.W. Raulerson told Bill F. Raulerson that Steve Eunice, Ernest Lewis and Carl Lewis were among the most gifted thinkers in the tri-county area.
It was in these early days (1950-1960) that both founders developed an admiration for each other, not only for their engineering minds but their ability to operate successful businesses. Their friendship developed long before they traded commodities. Mr. Steve Eunice started Ace Post company in 1964. The company later changed its name to Ace Pole Company. Steve Eunice started purchasing petroleum products from Lewis Oil Company in 1964. After Mr. Ernest Lewis's death in 1978, Ace Pole continued to patronize Lewis Oil Company now known as Lewis & Raulerson, Inc. Lewis & Raulerson, Inc. has been fortunate to inherit that legacy.
Ace Pole is a family owned company that was built on core values. They believe in doing what they say they will do and building relationships with their customers. They promise to do everything possible to meet the customer's needs. Ace Pole Company is the largest producer of CCA-treated utility poles in the country. Every aspect of their facility was built with their customers in mind. Because the owners oversee the yard every day, only poles that meet their exacting standards are allowed to leave the facility. Their goal is not only to meet your expectations, but to exceed them, as is Lewis & Raulerson, Inc.'s.
Lewis & Raulerson, Inc. is a wholesale distributor of light products, distillates and lubricants serving 200 open dealers and over 1,000 commercial accounts in North Alabama, North Florida and South Georgia since 1938. It markets 200 Million gallons per year thru BP, Chevron Texaco, ExxonMobil, Shell and Sunoco barrels. Lewis & Raulerson, Inc. employs over 500 people with sales north of $500 Million through its family of companies; i.e., Friendly Express, Lewis & Raulerson Carrier Group, PSG, Petroleum Products Company and Planation Petroleum (Thomasville, GA).
"I would like to thank the Eunice family and staff for your valued friendship, business and the legacy that we have nurtured for over 5 decades. Thank you for your trust and loyalty, but more importantly, I thank you for your friendship and the fond memories between you, myself and the Lewis family. I spent many days riding timberland with Mr. Eunice and I learned a great deal about business. WE would leave in the AM and get back after dark. The Eunice family has always welcomed me into their home and treated me like family. We are proud to be associated with your name and grateful to be a valued supplier" said Bill Raulerson of Lewis & Raulerson, Inc.